https://www.bbc.co.uk/news/uk-england-london-61283306
Pedicab operators have supported government plans to license the industry, which has been plagued by claims of tourists being ripped off.
Transport Secretary Grant Shapps told MPs on Wednesday his department planned to introduce legislation to control the "wild west" of pedicabs.
The London Pedicab Operators Association said licensing was overdue.
Pedicab operators, drivers and their vehicles are not licensed in London.
The pedal-powered rickshaws, often with flashing lights and music, are a regular sight in the West End where riders offer rides to tourists, shoppers and clubbers.
But some have been accused of charging extortionate fees and playing loud music.
Speaking to MPs on the Transport Select Committee, Mr Shapps said: "We will be introducing in this next session law to control the wild west of pedicabs or rickshaws, particularly in London where there isn't legislation which accurately enables any type of licensing or control.
"I think it's high time."
Legislation could force pedicab operators to get a licence and follow rules on prices and safety.
Commenting on the government's plans, London Pedicab Operators Association chair Friedel Schroder said: "Looking back at it now I can't believe it's taken this long.
"It's meant there's been a lot more negative press, evolved from just the fact individuals who should never be on these units are just free to operate."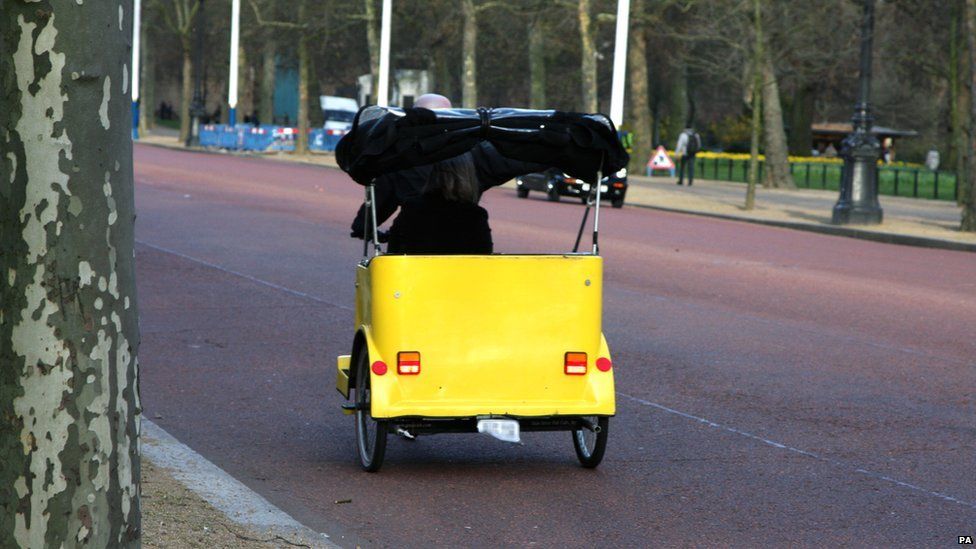 ,
Pedicabs are unlicensed in London
Pedal Me owner Ben Knowles, who runs a fleet of pedicabs that pick up goods and people, said: "They [pedicabs] have been undermined by the business models under which they're run and by the lack of regulation.
"So I'm really excited to see this regulation coming in because I think it might help boost standards across the industry and turn it into the reputable, useful service it always should have been."
In February, a pedicab driver was made to hand money back after charging £180 for a three minute ride.
A spokesperson for the Mayor of London said: "The Mayor is clear that there must be significant improvement to the way pedicabs operate."