Maybe Vito and WAV people will know what's going on here, but it's certainly not wholly clear from the article.
But suspect it's something to do with some plates being mandatory WAV plates in Aberdeen, so it may be that the cab has changed from a standard plate to a WAV plate, and thus hasn't met the latter standard, but who knows?
When is a taxi not allowed to be a taxi? Aberdeen businessman in council fight for approval
https://www.pressandjournal.co.uk/fp/ne ... -approval/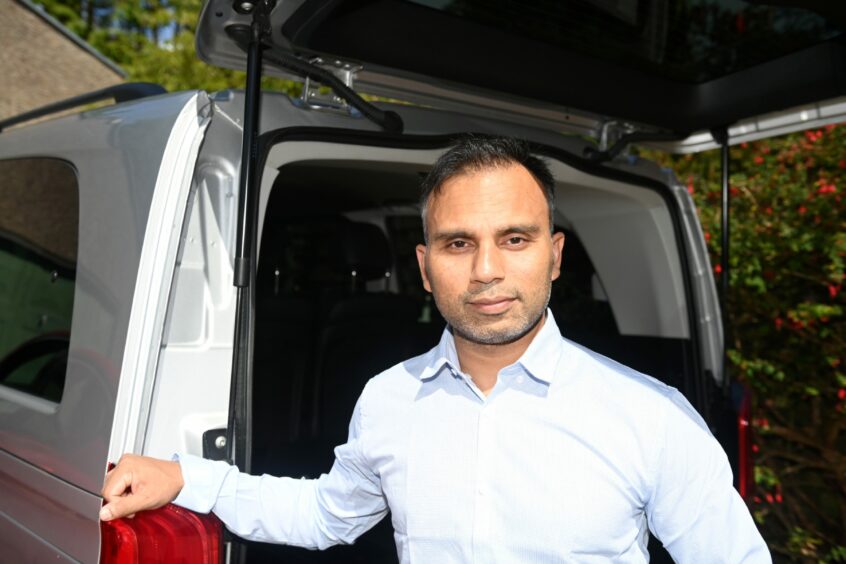 Image: Paul Glendell/Press & Journal

An Aberdeen businessman is struggling to understand why his nine-seater taxi is failing to meet the criteria of Aberdeen City Council – despite it already having been a taxi for four years.
Varinder Sood, who also owns Cafe Society on Union Street, said while exactly the same Mercedes Vito was previously licenced he is being made to appear before a committee.
Mr Sood, 38, has been told his taxi does not have the correct clearance in spite of it being less than one millimeter different to any of the other cabs in the city he has measured.
In a last-ditch attempt to get the council to see sense, he is appealing to them to licence his taxi to be used in Aberdeen again "as soon as possible".
Seven of same vehicle already used as taxis in Aberdeen
Mr Sood said: "I am already a taxi driver in Aberdeen and I bought a new car. It was previously licenced in Aberdeen as a taxi.
"Before I bought it I phoned the council to confirm there had been no major rule changes. I was told that there were not any, but, because I was having it modified with a disabled ramp it would need to undergo a wheelchair accessible test at the Hackney Centre.
"Moreover, I know three people who have the same cab."
Aberdeen City Council's own records show that seven Mercedes Vitos are registered as taxis under its licences.
However, after paying more than £20,000 for the vehicle as well as a ramp upgrade, Mr Sood said he has been "going round in circles".
He continued: "I have been driving taxis in Aberdeen for 12 years. I work in the evenings and weekends, and I have my cafe on Union Street in the daytime.
"The new car is a long wheel base and is a 66 plate, so it is five years old.
"The council are saying the height of the vehicle is not enough. But I have measured it and I have measured the other cars in Aberdeen that are already licenced and it is not even one millimetre difference. In fact, I would say it is exactly the same."
Mr Sood has had his car modified, by an authorised mechanic, to add a ramp to his vehicle. The company he used works with taxi owners throughout the country, and with organisations such as the Scottish Ambulance Service and the Red Cross.
He was told that due to the car being modified it would need to go through a test to measure the space for passengers who use wheelchairs.
'Victim of council rules'
He continued: "I took the cab to the Hackney Centre in Aberdeen to be measured, and they made a small mistake.
"They said it was 112cms in height, when in fact it was 1200mm. I know the measurement is meant to be 1340mm, but there are very few cars who meet this standard and yet they are still on the road. It is less than 1.5cm, 14mm of a difference."
He said: "I tried to speak with the council to say the taxi has already been licenced, but they said it hadn't been. But everyone in Aberdeen knows that it had.
"I should not be the victim of the rules. it is clearly very unfair. Something is seriously wrong, I just want to get my cab on the road."
Aberdeen City Council has been contacted to comment.
A couple of other photos, which are too big for on here, but not that much different to the one above, although they show a bit more of the motor:
https://wpcluster.dctdigital.com/wp-con ... 6x1024.jpg
https://wpcluster.dctdigital.com/wp-con ... 40x542.jpg