Coronavirus: BrewDog to hand out beer after vaccinations
https://www.heraldscotland.com/news/189 ... cinations/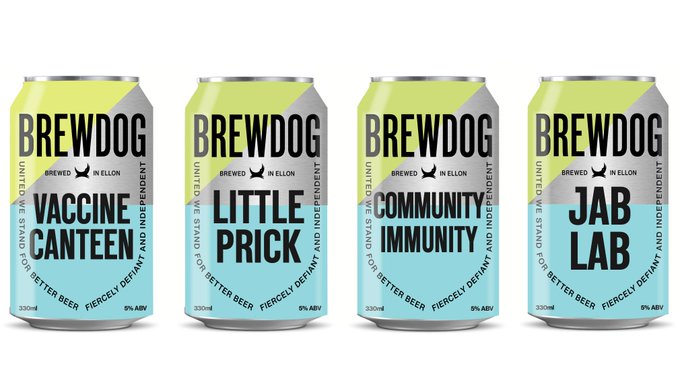 A Scots brewery is asking for help in naming a commemorative beer which will be given out to anyone who receives a vaccine in one of their bars.
BrewDog offered the use of their now-empty bars to the Scottish and UK Government to help administer coronavirus vaccines.
The nationwide bar's president addressed both Nicola Sturgeon and Matt Hancock on Twitter, where he said his bars have the storage, waiting areas and staff to help out.
Now, James Watt says each individual who gets vaccinated at a BrewDog bar will receive a special commemorative beer.
Mockup designs show four options for people to choose from: Vaccine Canteen, Little Pr*ck, Community Immunity and Jab Lab.
"We are in talks with the government about using our closed BrewDog bars as vaccination centres," Mr Watt wrote on Twitter.
"We are also going to give everyone who gets vaccinated at a BrewDog bar a special commemorative beer. But what should we call it?"
Nicola Sturgeon had previously thanked the beer giant for their offer of help on Thursday, and the gesture amassed support on social media.
The First Minister wrote: "Thank you. I'll pass this on to our vaccination team."
A spokesman for BrewDog said: "We are excited to work with the Government to do all we can to help with a fast and effective vaccine rollout and we would like to thank Nicola Sturgeon for getting in touch so quickly."